Print Map- Version 1.0.0 launched on Google Play Store for Android.
Print Map is used for preparing offline high quality georeferenced PNG maps and PDF from custom vector tile basemaps (OpenMapTiles and MapBox) with custom configurable stylesheets.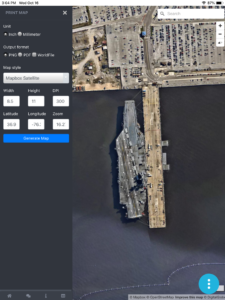 Easily Export High Quality Maps from a mobile app
Set initial view by searching or entering Lat Long
Choose Output format (PNG or PDF)
Select a Map Style based on either MapBox or OpenMapTiles Vector Tile Basemaps and Satellite Imagery
Set your page size and DPI
The PNG Images can optionally include PGW -Worldfile and PRJ-Projection sidecar files that are recognizable by all GIS Mapping Software packages and many mobile apps. The PNG images can also be inserted into reports and documents.