Earth Explorer is a 3D Globe with Augmented Reality (Control View with your device's sensors GPS/GNSS, Accelerometer, Gyroscope, Compass, other).
Users can load local vector data to the map.Supported formats are: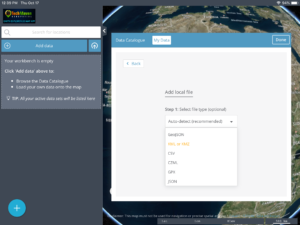 GeoJSON,
KML/KMZ,
GPX,
CZML,
CSV – Comma Separated Value Text file – with Latitude and Longitude or with known column/field names like state, zipcode,country and other regional mapping fields
JSON Catalog files – data layers defined in a JSON file.
Users can load online mapping services: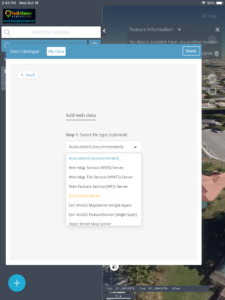 ESRI Dynamic REST Mapping Services (MapServer, FeatureServer,ImageServer)
OGC Mapping Services (WMS, WFS, WCS, WMTS)
Raster Tile Servers – XYZ URL
Vector Tile Server – XYZ URL
If users have Vector Data in other formats, they can upload to our server and have it converted and sent back to app/map as GeoJSON.
Features:
Measure Linear and Area
Search and Geocode
Raster Tile Basemap Picker – uses BING
Maps, Open Street Map, CartoDB
Basemaps, Stamen Basemaps, ESRI Basemaps
Split/Map Swipe to compare layers
Switch map between 3D Terrain, 2D or 3D Smooth
Geolocation show your location on the map
Tilt Map
Rotate Map
Table of Contents and Map Legend and ability to re-order data layers by dragging
Displays Coordinates in Lat Long or UTM
Drop Markers
Copy Lat Long
Ability to download tables from data loaded
Zoom to Extent of Data
Charting
Timeslider on Spatialtemporal datasets
Export/Print PNG/PDF of Map
Share Link and Embed code
View Metadata (data about data)
Re-Order Table of Contents Items
Search CKAN/CSW/SOCRATA OpenData
Sites if Catalog file imported